RAM Designs now the official home for Decaf music!
Decaf began sharing his altered music starting in 2009 and has been getting better ever since. The songs contain a wide variety of frequencies, so whether your system excels in playing lower or higher bass, chances are there are at least a few songs that will sound just right on your setup. These songs are designed to push your system near it's limits on music while being as close to clean as possible, so enjoy Decaf's collection of loud/screwed/demo music.
Just follow the "Decaf Music" tab on the navigation bar to download some tunes!
AudioQue HDC Subs in a RAM Designs Box! Feel the Flex!
Nov 5, 2012 - 5:48 PM
---
Professional Big 3 Kits Now Available for Purchase!
Sep 10, 2012 - 7:04 PM
Are you noticing your lights dimming a little? Maybe you're just trying to get that little extra on the meter. Either way, a Big 3 upgrade kit will provide your system with easier flow of power through the three main charging wires in your engine bay.
These will be made using black 1/0 Audio Technix CCA and OFC wiring, which is some stout wire for 1/0...barely fits inside the 2/0 ring terminals I am using. The ring terminal bolt hole can fit a 3/8" bolt. The connections will be crimped via a hydraulic crimper to ensure that the wire will never come loose. The connections are then heat shrank with adhesive-lined heat shrink tubing that will not budge once shrank. All in all, it makes them look very clean, and the black on black look keeps it stock looking as well.
Price? Can't get any better than $49 shipped for CCA wire, and $69 shipped for OFC wire. You could barely buy the equipment yourself at those prices!
Email me at Ryan@RAM-Designs.com to order, and please have your measurements ready.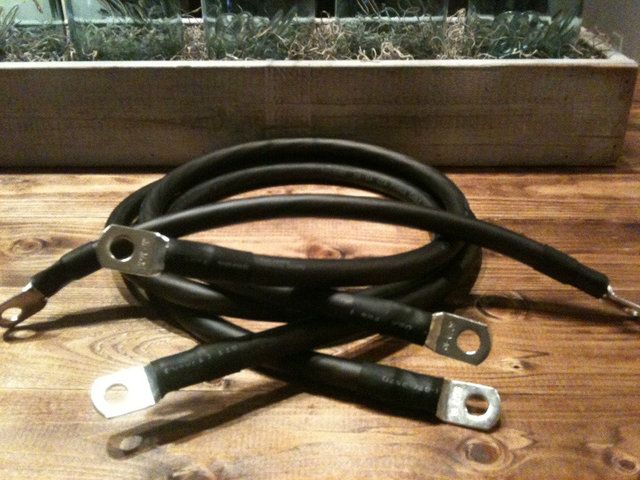 ---
Facebook Page Nearing 1k Likes!
Mar 20, 2012 - 10:45 AM
If you haven't checked out the RAM Designs Facebook page yet, check it out
HERE
. I update it on a nightly basis with new designs, so Like it to keep up with what's going on with RAM Designs. Also, if you haven't subscribed to the RAM Designs YouTube channel, do so
HERE
.
---
Copyright © 2011 - 2020 RAM Designs
All rights reserved.